Lights, camera, social ACTION at The Stockwood Park Academy
My name is Matilda, and I am writing this after taking part in First Give myself in 2021. I am currently doing my work experience with First Give and got the opportunity to watch the School Final of The Stockwood Park Academy. Read about my experience at a First Give Final below!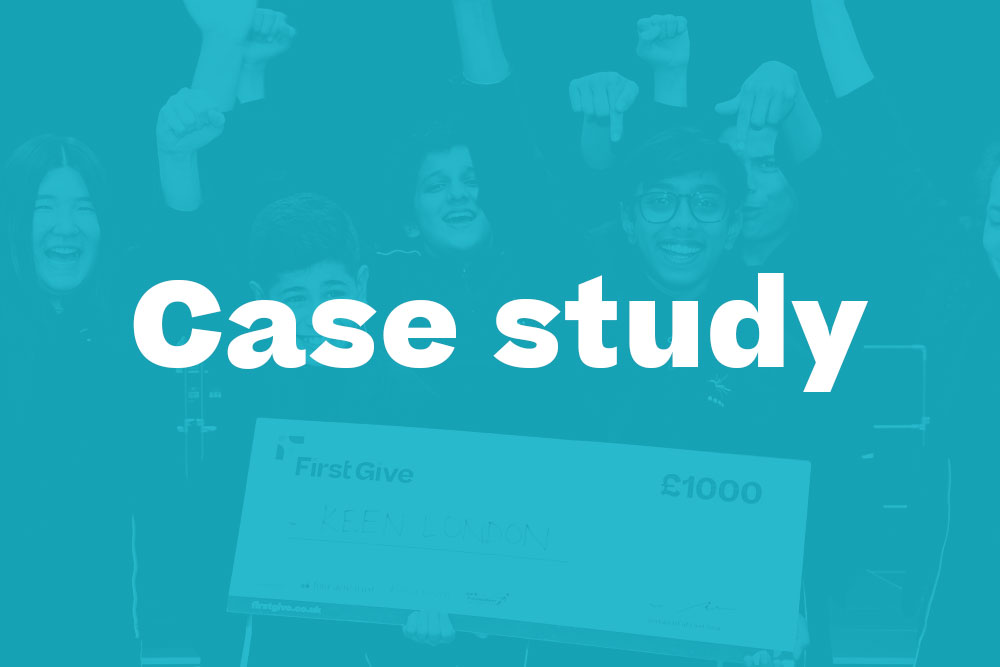 Empathy and sympathy in action
8b showed their support to Stepping Stones (Luton), a local charity which helps women who have experienced domestic violence. This was succeeded by students taking turns riding a bike for an hour. This meant that they adopted the struggle and stress felt by the women who experience such violence and vulnerability. Not only did 8b create empathy in the form group, but they spread it to the rest of the year group. During their presentation, 8b told the audience to look under their chair for a piece of paper. Students with the paper were told to lift it up to represent the unsettling statistic that 1 in 4 women will experience domestic violence in their lives. 8b recognised and told us that it was a shocking statistic, but also a problem in their local area. As the papers were lifted shocked faces filled the room and it was clear that many began to think about these women and feel sorry for them. 8b's empathetic social action and interaction with the audience led to them winning £1,000 for their charity. However, 8b was not the only form to spread sympathy around their school. 8i, who was also supporting Stepping Stones, made a poster filled with words of encouragement written by students at Stockwood Park which then filled the shape of Stepping Stones logo. The empathy and sympathy felt during their work with First Give enhanced one of their school's values of care. The Headteacher of Stockwood Park Academy said, 'some of our values are about compassion and care for others'. This was clearly represented during Stockwood's commitment to the First Give programme.
Carrying charities on their backs
8f walked to the front for the presentation in style. T-shirts and hoodies with Crisis Aid, a charity helping Islamic orphans, unveiled across their backs. The style showed true commitment to their charity as it informs us that they had gotten in touch with the charity, which is an aim set out for participants by First Give. By doing this, 8f was able to find out more about what the charity does and how the Islamic orphans are affected by lack of water and food. 8f clearly showed their interest in helping the charity by informing the audience on how they can personally donate through the charity's website. 8f developed a real interest, passion and commitment for their charity, really making a difference in the community. Ms Ward, the Lead Teacher, encouraged the pupils in the assembly hall to be helpful and caring in the community by telling them 'we've got responsibility to support and do good work in the community'.
Giving young people a voice
The presentations done by students during First Give creates a voice for their charity. The audience learns about what charities do and how they can perhaps donate to them. Awareness was spread throughout the whole programme through social actions such as sponsored runs, bake sales, ice pop sales and guess the sweets in the jar. First Give is not only about students creating awareness for their charity, but also making themselves heard. At the start of the project at Stockwood Park Academy, many pupils felt shy and unsure about doing the presentation. Some felt that speaking in front of hundreds of their peers was quite daunting. But there was a spark of motivation from the participants. Many students presented in front of their year group with loud clear voices and even performed some roleplay, possibly influenced by their drama classes. The importance of this was highlighted by the Headteacher when he told the year group about how significant it is to lift your chin up and project.
An example of someone who showed determination and great effort in their presentation was Favour in 8c. Favour presented on her own on stage with a loud and passionate voice. She displayed her ambition to help people suffering with heart disease as she represented the British Heart Foundation. This led to her receiving the Judge's Commendation. Having a clear voice and knowing how to compose yourself during a presentation is extremely important in life. Presentations come along in lessons at school, interviews for university and jobs and even while you are doing a job. Students at Stockwood Park Academy have gained both compassion for others and confidence in themselves from First Give.
Overall, the Final was an event in which showed the students' real interest in helping others and illustrated the resilience and determination of the pupils at the school.