First Give inspires young leaders at John F Kennedy Catholic School
John F Kennedy School ran First Give for the first time and had an exceptionally successful programme! The students were fully engaged in social action, and the teachers saw real improvement in the behaviors of students that usually had struggled with school engagement. Additionally, their Final had a wonderful judging panel and attendance of charity representatives in the audience. We are looking forward to a longstanding partnership with JFK and can't wait to see what the students come up with next year!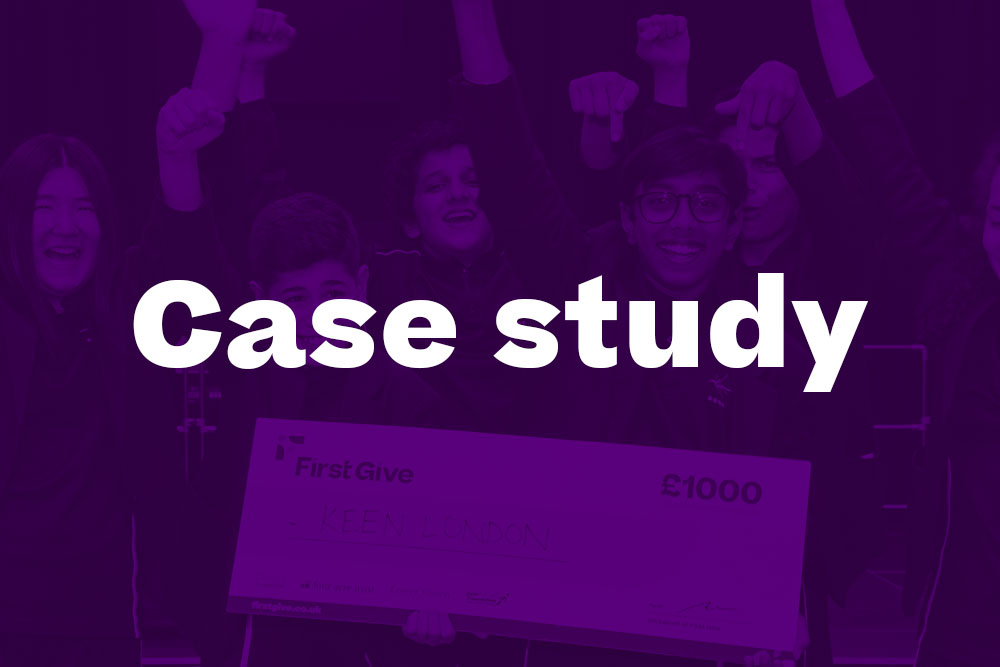 The First Give programme was introduced to John F Kennedy Catholic School in Hertfordshire by a parent, who had seen successful outcomes for students achieved through the First Give programme at nearby Ashlyn's School. Through the programme, the whole of Year 9 took on the challenge to research social issues affecting their community, choose a local charity to support, and carry out social action on behalf of their chosen charity.
As the programme progressed, teachers noticed that meeting the charities representatives from their chosen charity motivated students who sometimes struggle to engage with school projects to step up and take ownership of their First Give project, demonstrating key leadership skills. With one tutor commenting:
It was fantastic to see new leaders develop, seeing those students who are sometimes silly taking it seriously

Tutor, John F Kennedy School
Another Tutor told us:
When my form was switched on and really got into the idea, they were fantastic, and it was great to work with them in that environment

Tutor, John F Kennedy School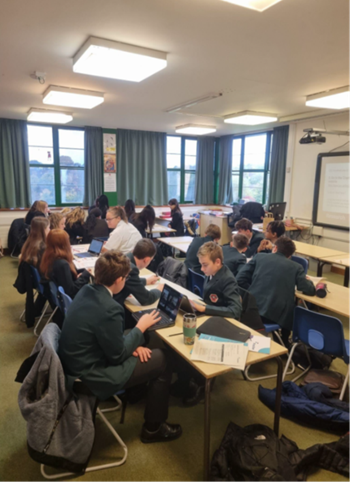 The full year group was passionate about making a positive change in their community, and the variety and impact of social action projects that took place throughout the school was particularly impressive. Students engaged the whole school in the process and as a result created a fantastic reputation for their year group. Deputy Head Teacher, Debbie Bailey told us that this had given this particular year group the opportunity to stand out in a positive way, and they were delighted with the impact Year 9 was having on the whole school community. Across the year, 24 different social action projects were carried out including assemblies for younger years, a silent protest around the school and homemade information videos sent out to years 9-11. Students also carried fun social action activities such as 'sponge the teacher', a penalty shout out fundraiser and face painting.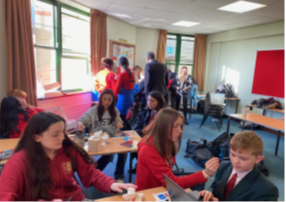 At every First Give Final, each class present on behalf of their chosen charity to an invited audience and a panel of judges. The Final at JFK was an inspiring and high-profile event with the Head of Governors, Head Teacher and Head of Programmes from a local youth charity, acting as judges. We also had representatives from the student's chosen charities in the audience. The standard of presentation at the Final was extremely high, showcasing the amount of work and dedication students had given to the project as well as the teamwork, leadership and public speaking skills they had developed along the way. Our facilitator reflected that she was impressed with the way all students had taken on board and implemented the feedback given at the First Give Presentation Skills Workshop ahead of the Final.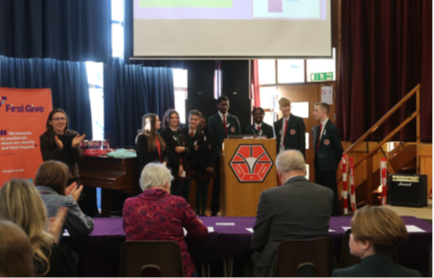 The First Give project at JFK has supported students to develop positive relationships with their peers and tutors, develop key leadership and communication skills as well as build up their confidence in themselves, with Deputy Head Teacher Debbie Bailey telling us:
This was our first year of running First Give and it has delivered everything it promised. Our students were passionate about their charities and rose to the challenge in raising awareness across the school. Students we have never seen present before delivered their presentation in the final with confidence and were able to articulate 'why' they had done what they had done, which is so important. Their communications with the charities was fantastic to see showing great maturity and interest in others beyond 'their' world. I would highly recommend the programme. It also gave a great opportunity for the relationships with form tutors and the students to develop even more

Deputy Head Teacher, John F Kennedy School