Feel Good First Give Final
Read about how Plumstead Manor students supported Metro this summer, including funding travel to get to Pride, trips and outings, and subsidised tickets for events some people would otherwise be unable to attend because of financial reasons..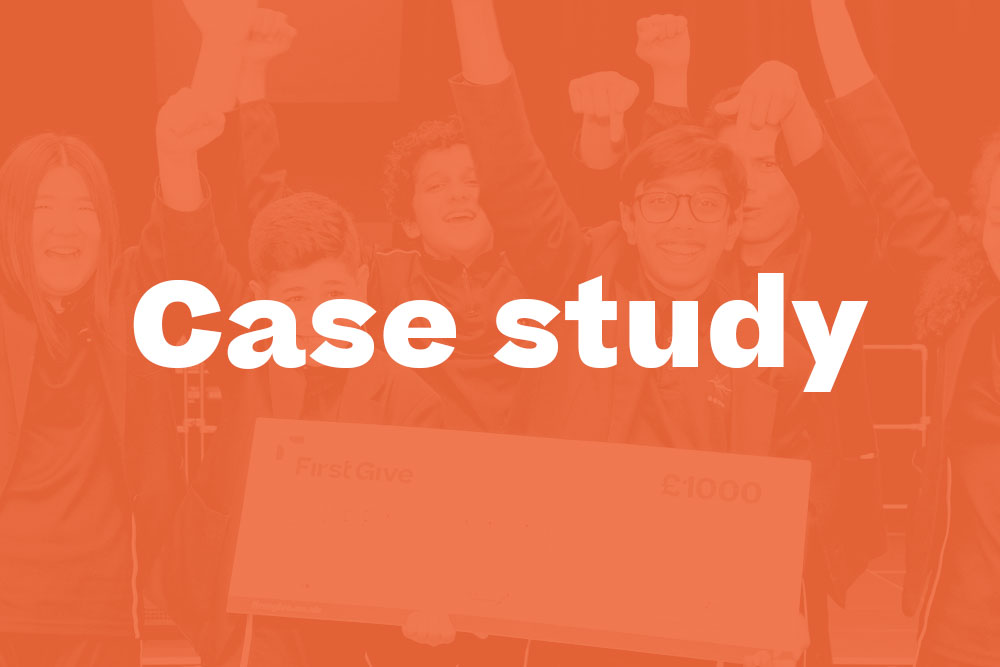 Plumstead Manor School, London, May 2022
I had the pleasure of hosting Plumstead Manor School's First Give Final in late May 2022… and what an absolute joy it was!

First Give Facilitator. 2022
The First Give programme inspires and empowers young people to take action to make a positive change in society by doing social action for causes students choose. What's more, the winning classes' hard work is rewarded with a £1,000 grant going to the students' chosen charity – this year it was Metro! The judges who made the decision made a top-notch line up, including a head student, the Headteacher – Mr Greig, the Jack Petchey Foundation CEO – Gemma Juma –whose foundation sponsors the First Give programme at this school, and the Head of Year 9. We had an audience of parents, too!

The other classes across year 9 chose to tackle a wide variety of social issues by supporting charities: Westminster Drug Project, Greenwich Inclusion Project, Emmaus, Saint Mungo's, Breakfast Clubs Against Racism and Bexley Woman's Aid.
At First Give, we recognise that contact with the charity they're supporting really impacts the students' participation and empathy development on the programme, so it was fantastic to see multiple charity representatives at the Final, watching the students' hard work. A member of the team from Metro charity – David – said the students visited the Woolwich office to have a chat and be shown around. The representative said it was lovely to see that the students
were really excited and enthusiastic about the project' and that the initiative this group showed was really impressive. It's so valuable in reminding us how much young people can advocate for themselves.

David, Metro Charity Representative, 2022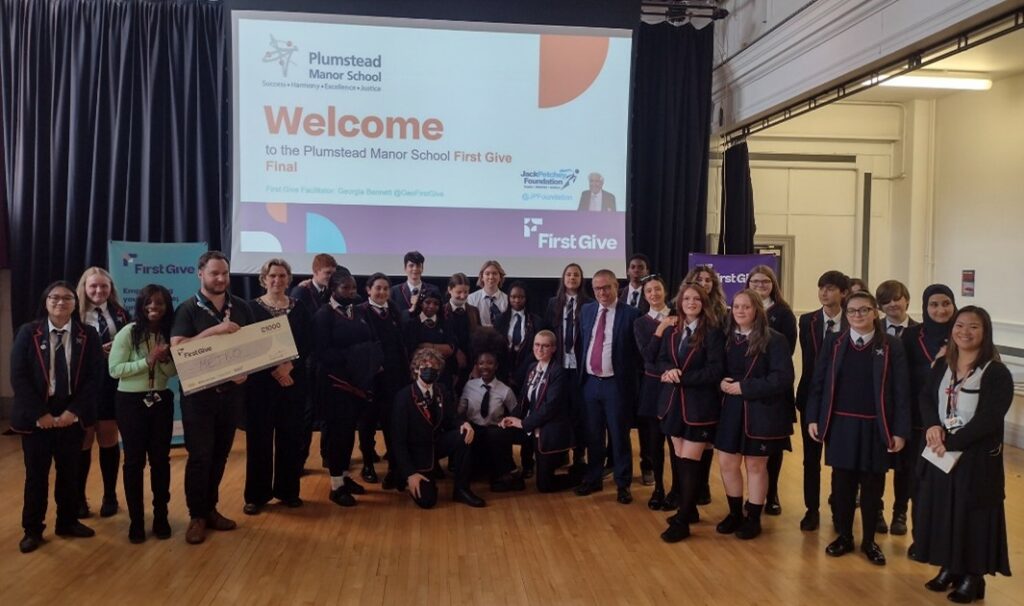 The £1,000 grant will go towards Metro's summer programmes pot, including funding travel to get to Pride, trips and outings, and subsidised tickets for events some people would otherwise be unable to attend because of financial reasons. I had a wonderful opportunity to speak with some of the presenting students, including one who highlighted that they hadn't done volunteering before this [First Give]
It definitely got me thinking more about volunteering in the future.

First Give participant, 2022
The other presenting student said what they enjoyed most about the programme was thinking about:
the giving aspect, and knowing people are getting help because of what we have done and achieved.

First Give Participant, 2022
Mr Greig, the Head teacher, expressed how proud he was when telling me that some of the students in the year group who presented at the Final have not presented in front of people before, and many would have never chosen to present as they are typically quite quiet. It was delightful for me to be able to say to him that we find this is a common outcome of the programme – students developing confidence. The Head of Year 9 told me how grateful she is to First Give for giving her a lovely opportunity to see a different side to her year group.
But what made this programme culmination even more positive? As I saw students buzzing around after the event, I spotted David and Mr Greig swapping phone numbers. I found out the school has plans to forge long-term relationships with all the charities, including Metro. The Head of Year 9 said the student council members would present a list of all the charities that were supported through First Give, and will propose that these charities are recipients of any future school fundraising up until next year's programme!