Bedford Academy Introduce First Give Into Their English Curriculum
Bedford Academy year 8 students carried out a successful First Give programme in their English curriculum. The lead teacher believed it was an easy fit as the programme develops skills such as public speaking, listening, writing, and holistic research. Learning these key skills was also negatively impacted by the pandemic, so the programme helped recover learning lost. The students identified social issues that mattered to them and carried out creative social action and presentations in the final. The passion and motivation of the year 8 students made this a great programme year!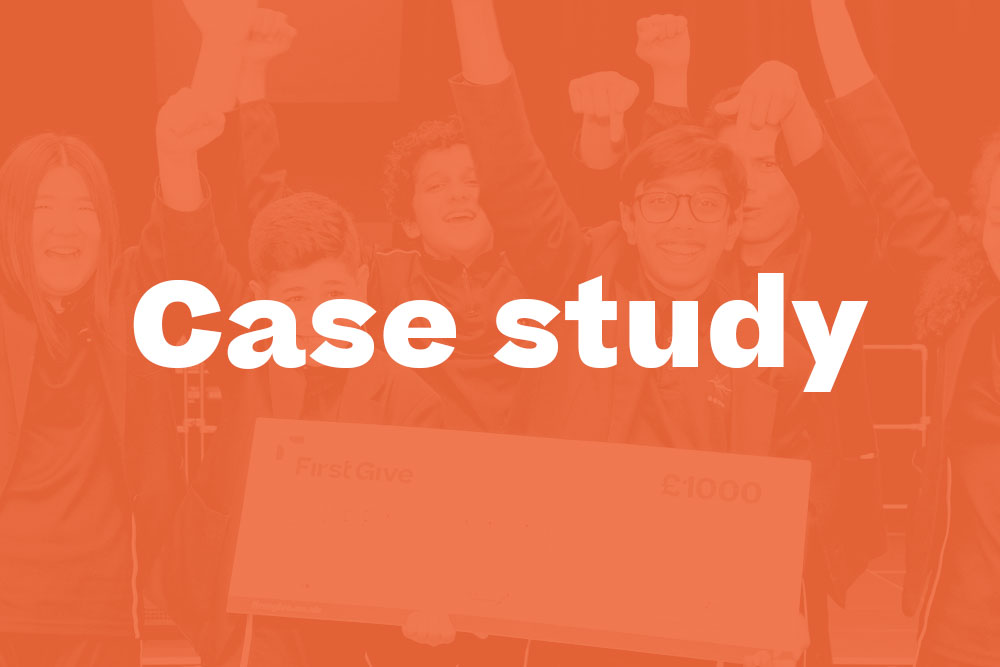 The Bedford Academy English department strive to enable their students to reach the highest levels. When they identified that speaking and listening skills were lacking in their current year 8 cohort, a year impacted greatly by lost learning through the pandemic, they decided to introduce First Give to their English Curriculum.
Miss Shereen Mee who co-ordinated the programme told us that:
First Give is structured in such a way that makes it an easy fit in the English curriculum. Students get a chance to develop their speaking and listening skills, something essential for their later life. As well as develop their transactional writing skills. Holistically it also encourages students to actively participate in their communities, fostering a greater understanding of different people and contexts. Speaking skills are essential to reach the top in English, a priority within our department.

Miss Shereen Mee, Lead Teacher, Bedford Academy
Over the course of two months, they delivered the programme to their year 8 students. Each class identified social issues that mattered to them, carried out research into local charities addressing these social issues and voted on their class charity. Once they had chosen their charity, they were able to start planning their social action projects. The students were passionate about making change in their local community and were able to combine this with developing their English skills through social action projects such as writing letters to their local MP, assemblies for other years in the school, as well as creating poster campaigns to raise awareness around the school.
The students also met with representatives from the charities they were supporting, and Miss Shereen Mee told us that this brought the project alive for students, helping those that were initially reluctant to engage well with the programme.
The Final itself was an inspiring event with parents, charity representatives, Judges from the local community and the Head Teacher in attendance. Bedford Academy Students rose to the challenge, delivering a high standard of presentation at the Final, including creative elements such as a dance and student made video, with one student being awarded a Judges' Commendation for a passionate speech about their own personal experience of Autism in support of Autism Bedfordshire.
The winning class, representing Bedford Refugee and Asylum Seeker Support, delivered a Standout presentation along with impactful social action, collecting books for refugees learning English, and were worthy winners of the £1,000 First Give grant.
This year has been such a success with both students and staff at Bedford Academy and we are very much looking forward to building on this next year.