End of year stats – students social issues 2022/2023
Dive in to our blog on the key findings of running the First Give social action programme during the academic year of 2022/23 by our Programmes Team Leader, Georgia. She looks at popular trends such as the social issues that were most important to your students last academic year and gives insight into factors that have increased student enjoyment of our programme!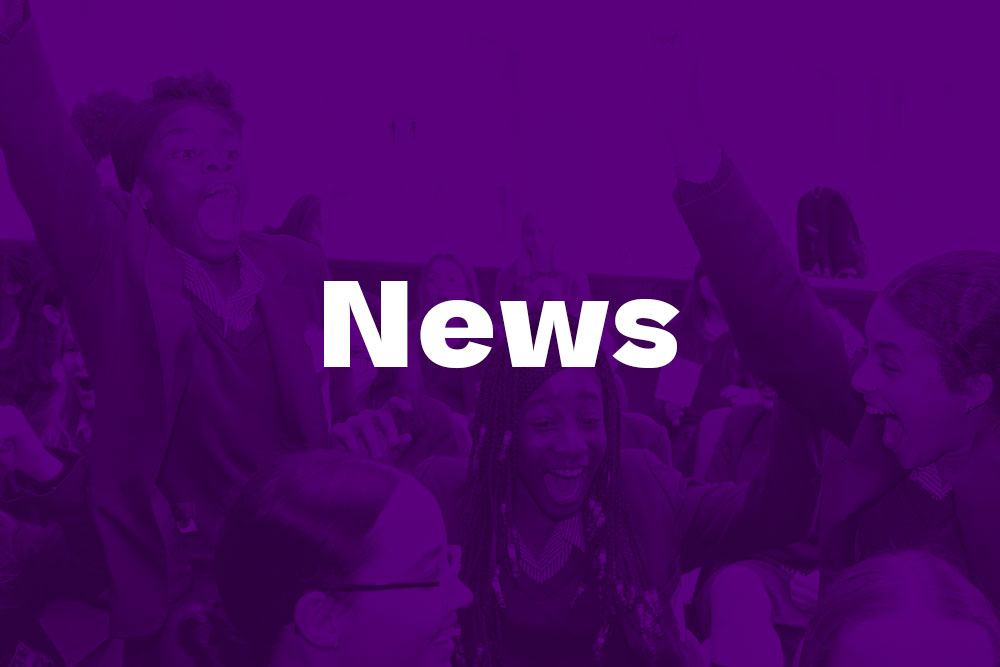 The academic year of 2022/23 was busy and highly impactful at First Give. We worked with over 35,500 young people and issued First Give grants totalling £196,000.
One thing is clear, giving young people the opportunity to speak about issues they're passionate about, while encouraging active participation to help these causes, will provide tangible results. Last year, students reported raising at least £82,080 for their chosen charities, which is up £12,134.85 on 2021/22, where students reported raising £69,945.15. It's clear that the passion, enthusiasm and drive of young people is harnessed when they are given the opportunity and the structure – such as during curriculum time – to develop their active citizenship. Having surveyed students who also did our newer follow-on programme called Step Up, we found out that almost 50% of the young people said they did not take up social action beyond First Give because: 'they haven't got/haven't had the time' or they 'haven't been given the opportunity/haven't had the chance'1. This significantly highlights the importance of including active citizenship during structured curriculum time, to develop young people's social conscious.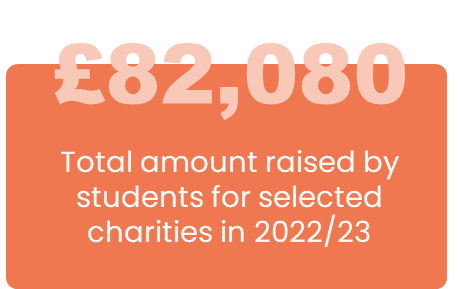 I wanted to summarise some of the key stats to shine a spotlight on what our partner schools' students chose to support in 2022/23, highlighting what really matters to young people.
Last academic year, the charity that was supported, and won, the most times was The Ben Kinsella Trust – a charity that aims to prevent youth crime and gang violence. The Ben Kinsella Trust won at 6 schools and was awarded £6,000 in First Give grants. The schools where The Ben Kinsella Trust won were in the London Boroughs of: Havering (x2), Brent, Harrow, Westminster and Greenwich. We have recorded other similar charities winning in 2022/23 across boroughs such as: Southwark, Lambeth and Kingston upon Thames, Sutton and Surrey. This highlights how important combating gang violence and knife crime is for young people living in London and South East in particular.
The signals here are that, despite young people being prime targets for grooming to join gangs, these young people also do not want to see this happen; they are aware of what is going on around them. As part of the First Give programme, all students have to research their chosen social issue and charity in detail, meaning they gain a better understanding of what is happening in their community. Being socially conscious and knowledgeable about the topic is arguably a key first step in ensuring young people make more positive choices.
In the table below, you can see the top social issues chosen by students. The '2022/23 all charities chosen' column would cover each classes' chosen charity in every school we work with, whereas the '2022/23 winning charities' column only recognises the winning class charity in each school.
2022/23 all charities chosen
2022/23 winning charities
Position
Percentage
Position
Percentage
Health
1st
15%
1st
24%
Mental health
1st
15%
4th
9%
Community cohesion (e.g. gang violence/knife crime prevention charities; community spaces and more general support hubs)
3rd
9%
3rd
14%
Disability
4th
8%
2nd
16%
UK poverty relief
1st
15%
4th
9%
Housing & homelessness
2nd
12%
4th
9%
Human rights
6th
4%
5th
6%
International aid
5th
5%
6th
5%
Education, training & employment
4th
8%
6th
5%
Environment
9th
1%
8th
1%
Old age & elderly
7th
2%
7th
2%
Animals (NB: animal charities can no longer be chosen)
6th
4%
8th
1%
Armed & ex-services
10th
0.5%
9th
0.5%
Sports & recreation
8th
1.5%
9th
0.5%
What this table can tell us is the power of passion. Focusing on 'health' as a good example – this covers such a wide variety of issues, such as hospice care, cancer care and air ambulance. For example, about 1,000 people a day are diagnosed with cancer2. This scope means that there is a higher likelihood that students will have encountered the social issue of 'health', in turn, fueling their desire to support this social issue3. Their stories, personal motivations and passion will drive their engagement as well as their peers', ensuring a motivated class and in turn, a higher chance of winning the grant for their charity. Providing a space where young people feel safe and able to share their social concerns is vital for developing active citizens in and outside the classroom.
Another key outcome from our data (which is similar to last year) is that: students were 13% more likely to say they enjoyed the First Give programme when they had contact with their chosen charity [that they chose to support and do social action for]. What this could show us about education on a wider scale is the absolute importance of education or programmes in school to be relatable to the young people wherever possible. If there's a way to link theory to reality, and make something more 'real' or hard-hitting to a young person, it's worth honing in on that.
At First Give, we've anecdotally noticed for many years that students thrive when given autonomy. Now, we have the data to prove this: students were 29% more likely to say they enjoyed the programme if they had a choice in the charity [they chose to support and do social action for].
Our Theory of Change draws upon these aspects, as we look for mechanisms of change that show 'young people feel inspired by local charities' and 'students feel a sense of agency and respect'. But, the stats could be revealing of a wider point regarding how young people can be educated best and get the most from their education.
We look forward to gathering and analysing the 2023/24 data in the summer of 2024, particularly to see how elements may link to wider educational trends.
Georgia, Programmes Team Leader
[1] Step Up 2022/23 whole year group survey, First Give. 521 surveyed. Question 13: You've said you haven't done any social action since doing the First Give programme. We'd love to know why that is. Tell us why you've not done any social action. 321 responses were given, of these: 'Haven't got/had the time' – 33.95%; 'Haven't been given the opportunity/haven't had the chance' 14%. Total = 47.95%.
[2] https://www.cancerresearchuk.org/health-professional/cancer-statistics-for-the-uk#heading-Zero
[3] Lilly Family School of Philanthropy has indicated that personal connection and experience with a cause can significantly influence charitable giving.