Youth Voice resounding across the South Wales Valleys – Youth Action lighting the horizon  
Students at Treorchy Comprehensive School raise awareness around mental health through creative and diverse projects. A strong relationship has formed between the students and the winning charity, New Horizons. Impressed by the work and dedication of the students, New Horizons are now exploring future projects aimed at schools to improve teen mental health in the community. This is all thanks to the motivated and passionate students at Treorchy!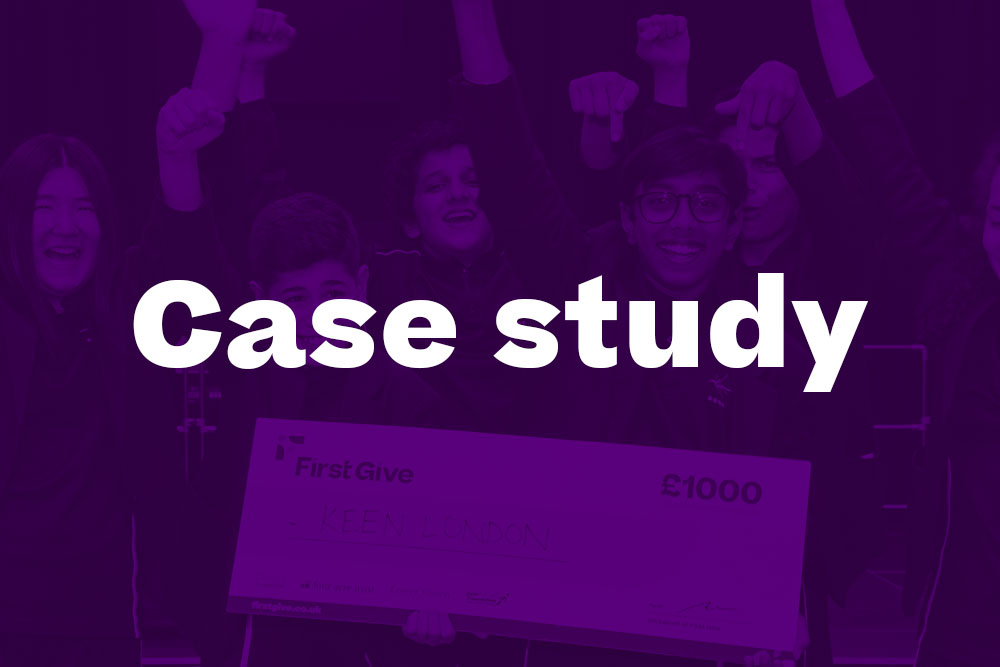 First Give have strong partnerships with many schools across the South Wales Valleys, one of which being Treorchy Comprehensive School. In the academic year 2021/22 the school ran their inaugural programme; it is fair to say that the young people excelled. Across the whole Year 9 cohort, the students were able to help support the work of eight local charities and raise over £650. This year, they have come back even stronger and have worked to impact ten charities and raised over £850.
One charity has been chosen by the young people in both years and that charity is New Horizons – Improving Mental Health Locally (newhorizons-mentalhealth.org.uk). This is no coincidence since a strong relationship is building between the students and this charity. I was able to witness first hand, the genuine warmth and respect that the young people have for Tracy of New Horizons. Whilst conducting an interview with the group that won last year's First Give Final, Tracy arrived at school and the pleasure and delight displayed on the students' faces at seeing her was very evident.
New Horizons work across the Cwm Taf Morgannwg region of South Wales; the focus of their delivery is currently around adults. A teacher from Treorchy School contacted Tracy Thomas, Deputy Director of New Horizons, who then visited the school in person to meet with the class. She reported that the young people were really proactive, and she could not believe how much work they put into the programme:
Not just in supporting the charity but in terms of their own mental and emotional wellbeing and that of the other students at school – it was phenomenal, I found them so inspirational.

Tracy Thomas, Deputy Director of New Horizons, 2022
One of the students from this group told us that they had chosen this charity as:
Mental health is a big issue for us, particularly around our age, with exam pressures etc. and New Horizons does a lot of good work with people in our area.

Student, Treorchy Comprehensive School, 2022
The young people put together an impressive suite of social action, including setting up 'safe spaces' and 'walk and talk' sessions, aimed at removing the stigma around conversations about mental health and emotional wellbeing, as well as being more inclusive in their language. They also put posters around the school which had a QR code linking to the New Horizons website. This had a positive impact for the charity by raising awareness within the school.
Their Final presentation included a voice-over of a poem read by one of the students, which he wanted to include, as he had lost a friend to suicide. This had a massive impact at the school and provoked some meaningful conversations amongst the students. The judges deemed this class to be worthy winners of the £1,000 First Give grant for their chosen charity.
The class have not only conducted impactful social action but have also used their voice in a powerful way to shape some programmes that the charity offers. They talked together about how the charity might use the £1,000 to specifically help reach teenagers in their communities.
New Horizons are now exploring the possibilities of running workshops at school, in the Spring term, in collaboration with The Samaritans and Head Above the Waves, covering issues around self-harm, suicide and exam stress. They are also currently collaborating with the Art department at school to get students to design a T-shirt, as part of their coursework, which they can sell to raise awareness for mental health and emotional wellbeing.
After the First Give Final in December 2022, a year 10 student expressed:
It is brilliant that another class has chosen the same charity that we did, as we have seen how good the work of this charity has been and affected the community in a positive way, especially with the feeling of the work being carried out across RCT – this makes it feel more personal.

Student, Treorchy Comprehensive School, 2022
Another student said:
We are keen to join together with the year 9 class to do more social action and help more people, even after First Give, as the problem is still on-going, and it is important that it is not forgotten about.

Student, Treorchy Comprehensive School, 2022
With the combined forces of classes across two-year groups collaborating to champion mental health and emotional wellbeing and New Horizons charity, I am confident that this spark will continue to grow and shine brightly across the horizon of The Valleys for some time to come.