Deptford Green First Give Programme 2023
Deptford Green School in South-East London has partnered with First Give since 2018. Since the beginning of our partnership approximately 900 students have completed the First Give programme, connecting with charities in the community and taking action to address social issues that are important to them. Last spring, students participating in the programme were once again passionate about diverse social issues affecting their community.  Read the full blog below to learn more about the wide range of social action students at Deptford Green carried out for their local charities.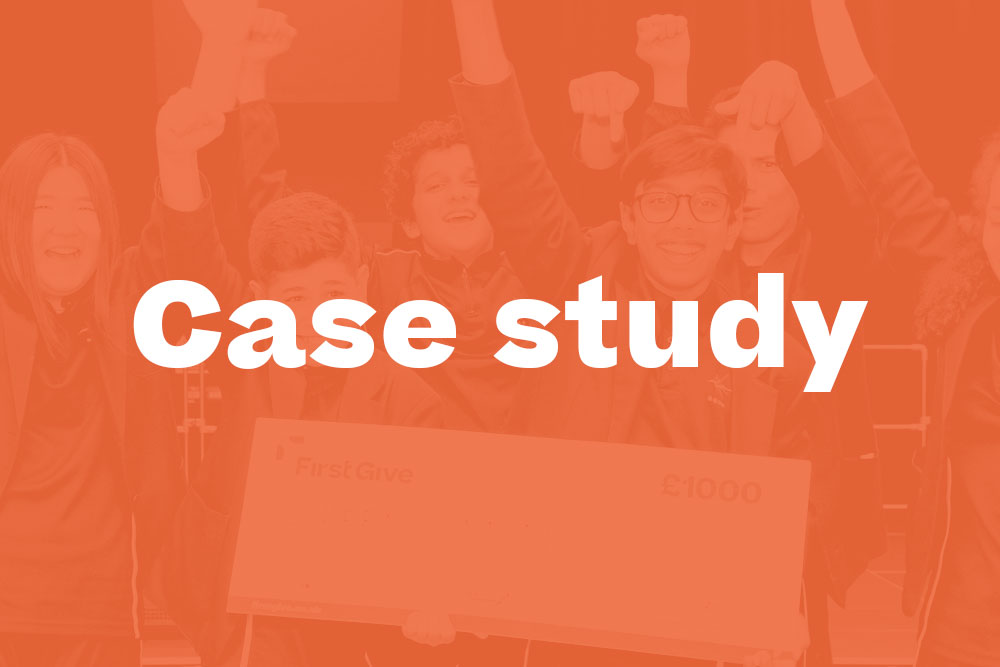 All young people can benefit from participating in social action. The skills that they develop, including teamworking; project planning and researching are essential to future opportunities. But on top of these practical skills, participation can lead to improved confidence and wellbeing; increased self-efficacy and the sense of achievement that comes with helping others. The National Youth Social Action survey highlights the participation gap that exists based on socio-economic background, and that is why we at First Give prioritise working with schools who have a higher than average population of students eligible for free school meals. Deptford Green is one of those schools.
Offering the opportunity to take part in the First Give programme through school widens access to social action opportunities, and the generous support of abrdn this year has ensured that a further 180 students in Year 8 took part this year.
Students were really engaged in a range of different social issues and were passionate about making change in their community. Each class in the year group selected a charity to support, including local charities Deptford X and the homeless charity 999 Club. One class was focused on women's rights and subsequently supported One in Four, and another chose to support local refugee charity AFRIL (Action for Refugees in Lewisham). The sheer range of issues and causes was itself a cause for celebration.
The majority of students had the opportunity to meet with representatives of the local charities they selected, which contributed to their passion and created opportunities for them to develop their professional communication skills.
First Give also supported the school to connect with members of the local community, including the Young Mayor of Lewisham, Jentai Gen-One who we invited to sit as a judge on the panel. This meant that young people played an essential role at every stage of the grant giving process.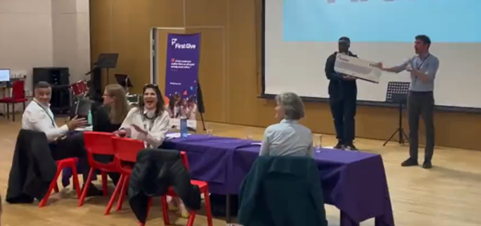 The students carried out a huge amount of social action, including a silent protest; bake sales; selling home-made bracelets and writing an article for the schools newsletter. These actions were a testament to their enthusiasm and competitiveness. As a result of their hard work, participating charities received over £150 in funds raised in addition to the £1,000 grant won by AFRIL. Not to mention the awareness they raised at the Final and throughout the programme.
Emma Thurston, Headteacher at Deptford Green School told us:
Our partnership with First Give has supported our students to develop essential skills and to grow their confidence, their empathy and their cultural capital. This year students delivered powerful and professional presentations that demonstrated their generosity and their desire to contribute to society. I'm delighted that £1,000 our Year 8s won for Action for Refugees in Lewisham will be spent locally, supporting members of the community here in Deptford Green.
Sophie Wickham, Director of AFRIL reflected that:
The students at Deptford Green were passionate and enthusiastic about our work at AFRIL and it was clear that taking part in First Give had encouraged a sense of generosity in the class.
Upon finding that they had won the grant, she said:
What great news! We can certainly put the donation to good use in the local area around the school as we are a small local charity delivering services to families in this area.